I bought this kit at the Hill City Mercantile quilt shop in Hill City last Sept.It is Tatanka by JoAnn Hoffman A couple of weeks ago I decided to try and get it done for Greg's birthday which is tomorrow so I did it!!! So it's on the brown wall in the first pic even tho it doesn't look brown it is.
I tried it on a couple of walls and we decided the orange wall wasn't the one for it.
We might try it on the bricks of the fireplace too.
It was alot of tracing on to lite weight fusible and stitching with invisible thread.
This is the backing I had 2 pieces of this that's why the gap in the middle:)
My design floor in the basement! I didn't have to worry about Greg seeing it he rarely goes down there. See the people in the tepee?
Lots of quilting.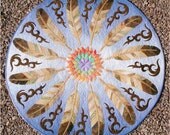 This is another one of her patterns I would like to make someday.
It is Sun Dance Eagle Feather. Now that I have the 42 inch circle cut out of freezer paper I am ready to do another:) My next project is patching some blue jeans When Jared saw what I had been working on he said "This is why you haven't patched my jeans" yup:).......JMF